Mind blown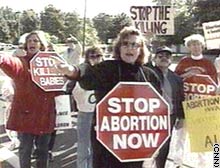 Stop abortion now, unless I need one

"The only moral abortion is MY abortion"
by ck4829 [Subscribe]
Thu Mar 23, 2006 at 07:19:49 AM PDT


In the spring of 2000, I collected the following anecdotes directly from abortion doctors and other clinic staff in North America, Australia, and Europe. The stories are presented in the providers' own words, with minor editing for grammar, clarity, and brevity. Names have been omitted to protect privacy.

"I have done several abortions on women who have regularly picketed my clinics, including a 16 year old schoolgirl who came back to picket the day after her abortion, about three years ago. During her whole stay at the clinic, we felt that she was not quite right, but there were no real warning bells. She insisted that the abortion was her idea and assured us that all was OK. She went through the procedure very smoothly and was discharged with no problems. A quite routine operation. Next morning she was with her mother and several school mates in front of the clinic with the usual anti posters and chants. It appears that she got the abortion she needed and still displayed the appropriate anti views expected of her by her parents, teachers, and peers." (Physician, Australia)

I've had several cases over the years in which the anti-abortion patient had rationalized in one way or another that her case was the only exception, but the one that really made an impression was the college senior who was the president of her campus Right-to-Life organization, meaning that she had worked very hard in that organization for several years. As I was completing her procedure, I asked what she planned to do about her high office in the RTL organization. Her response was a wide-eyed, 'You're not going to tell them, are you!?' When assured that I was not, she breathed a sigh of relief, explaining how important that position was to her and how she wouldn't want this to interfere with it." (Physician, Texas)

"In 1990, in the Boston area, Operation Rescue and other groups were regularly blockading the clinics, and many of us went every Saturday morning for months to help women and staff get in. As a result, we knew many of the 'antis' by face. One morning, a woman who had been a regular 'sidewalk counselor' went into the clinic with a young woman who looked like she was 16-17, and obviously her daughter. When the mother came out about an hour later, I had to go up and ask her if her daughter's situation had caused her to change her mind. 'I don't expect you to understand my daughter's situation!' she angrily replied. The following Saturday, she was back, pleading with women entering the clinic not to 'murder their babies.'" (Clinic escort, Massachusetts)

"We too have seen our share of anti-choice women, ones the counselors usually grit their teeth over. Just last week a woman announced loudly enough for all to hear in the recovery room, that she thought abortion should be illegal. Amazingly, this was her second abortion within the last few months, having gotten pregnant again within a month of the first abortion. The nurse handled it by talking about all the carnage that went on before abortion was legalized and how fortunate she was to be receiving safe, professional care. However, this young woman continued to insist it was wrong and should be made illegal. Finally the nurse said, 'Well, I guess we won't be seeing you here again, not that you're not welcome.' Later on, another patient who had overheard this exchange thanked the nurse for her remarks." (Clinic Administrator, Alberta)

"We saw a woman recently who after four attempts and many hours of counseling both at the hospital and our clinic, finally, calmly and uneventfully, had her abortion. Four months later, she called me on Christmas Eve to tell me that she was not and never was pro-choice and that we failed to recognize that she was clinically depressed at the time of her abortion. The purpose of her call was to chastise me for not sending her off to the psych unit instead of the procedure room." (Clinic Administrator, Alberta)

"Recently, we had a patient who had given a history of being a 'pro-life' activist, but who had decided to have an abortion. She was pleasant to me and our initial discussion was mutually respectful. Later, she told someone on my staff that she thought abortion is murder, that she is a murderer, and that she is murdering her baby. So before doing her procedure, I asked her if she thought abortion is murder -- the answer was yes. I asked her if she thought I am a murderer, and if she thought I would be murdering her baby, and she said yes. But murder is a crime, and murderers are executed. Is this a crime? Well, it should be, she said. At that point, she became angry and hostile, and the summary of the conversation was that she regarded me as an abortion-dispensing machine, and how dare I ask her what she thinks. After explaining to her that I do not perform abortions for people who think I am a murderer or people who are angry at me, I declined to provide her with medical care. I do not know whether she found someone else to do her abortion." (Physician, Colorado)

"In 1973, after Roe v. Wade, abortion became legal but had to be performed in a hospital. That of course was changed later. For the first 'legal abortion day' I had scheduled five procedures. While scrubbing between cases, I was accosted by the Chief of the OB/Gyn service. He asked me, 'How many children are you going to kill today?' My response, out of anger, was a familiar vulgar retort. About three months later, this born-again Christian called me to explain that he was against abortion but his daughter was only a junior in high school and was too young to have a baby and he was also afraid that if she did have a baby she would not want to put it up for adoption. I told him he did not need to explain the situation to me. 'All I need to know', I said, 'is that SHE wants an abortion.' Two years later I performed a second abortion on her during her college break. She thanked me and pleaded, 'Please don't tell my dad, he is still anti-abortion.'" (Physician, Washington State)

"The sister of a Dutch bishop in Limburg once visited the abortion clinic in Beek where I used to work in the seventies. After entering the full waiting room she said to me, 'My dear Lord, what are all those young girls doing here?' 'Same as you', I replied. 'Dirty little dames,' she said." (Physician, The Netherlands)

"I had a patient about ten years ago who traveled up to New York City from South Carolina for an abortion. I asked her why she went such a long way to get the procedure. Her answer was that she was a member of a church group that didn't believe in abortion and she didn't want anyone to know she was having one. She planned to return to the group when she went back to South Carolina." (Physician, New York)

"I once had a German client who greatly thanked me at the door, leaving after a difficult 22-week abortion. With a gleaming smile, she added: 'Und doch sind Sie ein Mörderer.' ('And you're still a murderer.')" (Physician, The Netherlands)

"My first encounter with this phenomenon came when I was doing a 2-week follow-up at a family planning clinic. The woman's anti-choice values spoke indirectly through her expression and body language. She told me that she had been offended by the other women in the abortion clinic waiting room because they were using abortion as a form of birth control, but her condom had broken so she had no choice! I had real difficulty not pointing out that she did have a choice, and she had made it! Just like the other women in the waiting room." (Physician, Ontario)

http://mypage.direct.ca/...
posted by Steve @ 11:01:00 AM