The Cheesemaster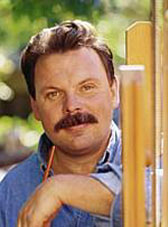 Thomas Kinkade


Dark Portrait of a 'Painter of Light'

Christian-themed artist Thomas Kinkade is accused of ruthless tactics and seamy personal conduct. He disputes the allegations.

By Kim Christensen Times Staff Writer

March 5, 2006

"Thomas Kinkade is famous for his luminous landscapes and street scenes, those dreamy, deliberately inspirational images he says have brought "God's light" into people's lives, even as they have made him one of America's most collected artists.

A devout Christian who calls himself the "Painter of Light," Kinkade trades heavily on his beliefs and says God has guided his brush - and his life - for the last 20 years.

"When I got saved, God became my art agent," he said in a 2004 video biography, genteel in tone and rich in the themes of faith and family values that have helped win him legions of fans, albeit few among art critics.

............................
It's not just Kinkade's business practices that have been called into question. Former gallery owners, ex-employees and others say his personal behavior also belies the wholesome image on which he's built his empire.

In sworn testimony and interviews, they recount incidents in which an allegedly drunken Kinkade heckled illusionists Siegfried & Roy in Las Vegas, cursed a former employee's wife who came to his aid when he fell off a barstool, and palmed a startled woman's breasts at a signing party in South Bend, Ind.

And then there is Kinkade's proclivity for "ritual territory marking," as he called it, which allegedly manifested itself in the late 1990s outside the Disneyland Hotel in Anaheim.

"This one's for you, Walt," the artist quipped late one night as he urinated on a Winnie the Pooh figure, said Terry Sheppard, a former vice president for Kinkade's company, in an interview.

...............................

Kinkade, a self-described product of a broken home and a hardscrabble childhood, once worked as a film animator and hawked his paintings at supermarket parking lots in his hometown of Placerville, Calif. His climb to fame began two decades ago, when he and his wife spent their life savings to start making his prints.

Since then, Kinkade has spun a hugely lucrative career from his distinctly romantic, idealized images of street scenes, lighthouses, country cottages and landscapes. It is a world without sharp edges, all warm and fuzzily aglow with setting suns and streetlights and luminescent windows.

Critics have described Kinkade's works - with titles such as "Sunset on Lamp light Lane" and "The Garden of Prayer" - as little more than mass-produced kitsch. But that has not deterred the multitudes who pay from a few hundred dollars for paper prints to $10,000 or more for canvas editions he has signed and retouched.

"It's mainstream art, not art you have to look at to try to understand, or have an art degree to know whether it's good or not," said Mike Koligman, a longtime fan who with his wife owns Kinkade galleries in San Diego and Utah.

Karen de la Carriere feels the same way. Framed Kinkades fill her living room walls and have transformed a long hallway into a veritable gantlet of glowing lithographs. Kinkade's art is both a personal passion and a business for the Los Angeles resident, who deals in the resale market for Kinkades, selling more than $25,000 of his works each month on eBay and her website.

"This is God-given talent," she said of a favored print, "Sierra Evening Majesty," with its snowy peaks, red-gold skies and smoke wisping from a cabin chimney. "He is a modern-day Leonardo da Vinci or Monet. There is no one in our generation who can paint like that."


One of his godawful paintings



One of Monet's paintings.

Compare and contrast

"There's Thom on his Harley," a saleswoman at one of the original Kinkade galleries, on Monterey's Cannery Row, said as she showed a visitor a print of "San Francisco, Lombard Street." Hanging nearby was "New York, Fifth Avenue," with Thom and one of his daughters in a '57 Chevy convertible.

Such whimsy illustrates the lighter side of the Kinkade his supporters say is genial and genuine, a "regular guy" with small-town roots. He also has raised millions for charities, including the Salvation Army and Make-A-Wish Foundation.

But a far more selfish portrait of the artist emerges from legal action brought by former gallery owners against Kinkade, Media Arts Group Inc. - the public company he has since taken private - and some who helped build it into a $250-million-a-year retail juggernaut before its sales flagged and its stock tanked.

Ex-dealers allege that the artist used his faith - and manipulated theirs - to induce them to invest in Thomas Kinkade Signature Galleries, independently owned stores licensed to deal exclusively in his work. They also contend he sought to devalue the company before buying it back two years ago for $32.7 million, renaming it Thomas Kinkade Co.

...............................

Though the panel did not single out the artist in its fraud finding, it wrote that he and other Media Arts Group executives had created "a certain religious environment designed to instill a special relationship of trust" with the couple, who have since divorced. The company, communicating through Kinkade and the others, often used terms such as "partner," "trust," "Christian" and "God" to convey a sense of "higher calling," the panel wrote.

Although Kinkade has said he does not market specifically to Christians, his limited-edition canvas prints bear the familiar Christian fish symbol and are inscribed with a biblical reference, "John 3:16." He also is fond of quoting Matthew 5:16 - "Let your light shine before men" - at times sounding more evangelist than artist.

"I love to talk about my faith," he said in a deposition. "I try to embrace people with love, unconditional love, like Christ did."

Former dealer Jim Cote said he was hard-pressed to feel the love. He has filed an arbitration claim, alleging among other things that he was a victim of Media Arts Group's pressure to saturate the market.

"In the beginning it was fine," said Cote, of Birmingham, Mich., who opened his first Signature gallery in 1996. "Sales were great because Thom at that point was very popular and there were limited outlets to buy his art."

But as time went on, Cote alleges, Media Arts Group pushed him to open more galleries, threatening to set up its own outlets in his territory. Cote eventually had three stores, all of which failed.

"This is not bread and milk," he said. "You can't have galleries on every corner."

..............................................

Held at a South Bend hotel, the party began sedately enough as Kinkade met with a group of Signature gallery owners to sign stacks of prints. Some who were there say it was a goodwill gesture by the artist to smooth relations with dealers, who could sell the signed pieces at a premium.

After the larger group dispersed, Kinkade and others moved to a smaller room for a private signing with Michigan gallery owner Cote and some of his employees. Champagne was served, then hard liquor. By various accounts, most of the partyers overindulged, including Kinkade and Cote.

At one point, according to testimony and interviews with Cote and three others who were there, Kinkade polled the men in the room about their preferences in women's anatomies.

"He was having a conversation with the men in the room about whether they like breasts or butts," said Lori Kopec, Cote's director of gallery operations, who also testified about the party. "There were only two women in the room, and I was very uncomfortable at that point."

It was during that bawdy discussion, according to arbitration records, that Kinkade turned his attention to the other woman.

"He approached [her] and he palmed her breasts and he said, 'These are great tits!' " Ernie Dodson, another Cote employee, told The Times, adding that he drank no alcohol that night. "I was just standing in the corner in amazement. It was like, holy cow!"

The woman whom Kinkade allegedly fondled confirmed to The Times that he touched her breasts without her consent. She spoke on condition of anonymity, saying she was embarrassed and concerned for her family's privacy.

Cote and Kopec said they also saw the alleged groping.

"She let out a yelp and backed away," Kopec said. "That's when I knew he had actually touched her."

Kinkade testified in a deposition that excessive drinking and "some normal rowdy talk" had taken place, but when confronted with the groping allegation, he denied touching the woman.

What is amazing is that the confluence of Christian marketing and some of the worst art ever to be sold can make a man rich. Then to top it off, he turns out to be crude.

Wow, are all conservative fundies like this?

If you think Kinkade is a good artist, take an art history course. You'll soon see the error of your ways.

posted by Steve @ 1:04:00 AM