Oh my God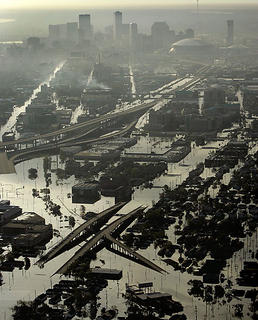 The broken levee


Governor says entire city needs to be evacuated


With conditions in the hurricane-ravaged city of New Orleans rapidly deteriorating, Gov. Kathleen Blanco said Tuesday that everyone still in the city, now huddled in the Superdome and other rescue centers, needs to be evacuated.

"The situation is untenable," Blanco said, pausing to choke back tears at a news conference. "It's just heartbreaking."

The breach of two levees Tuesday meant the city was rapidly filling with water and the prospect of having power was a long time off, the governor said. She said the storm also severed a major water main, leaving the city without drinkable water.


"The goal is to bring enough supplies to sustain the people until we can establish a network to get them out," Blanco said.

FEMA is considering putting people on cruise ships, in tent cities, mobile home parks, or so-called floating dormitories, boats FEMA normally uses to house its own employees, said Coordinating Director Bill Lokey.

Lokey said he anticipated FEMA will set up a permanent office in the area.

Recovery will take so long, he said, that some workers could spend their entire career working on Katrina.

"This is the most significant natural disaster to hit the United States," Lokey said.

The devastation was enormous. One of the twin spans of Interstate 10 was broken into dozens of pieces between the pylons, stretched out across rising water like puzzle pieces. Only rooftops were visible in several neighborhoods and the occasional building was on fire. In relatively lucky neighborhoods, residents waded in the empty streets in knee-deep water.

Blanco, Lokey and others spoke to reporters after officials flew to New Orleans with FEMA director Mike Brown and other officials. They stopped at the Superdome, where Mayor Ray Nagin outlined the dire situation: hundreds, if not thousands, of people may still need rescuing from rooftops and attics, he said.

Blanco described the dedication of rescue workers who at midnight were told to take a break.

"They refused. They couldn't do it," Blanco said.

Blanco said rescuers were unable to get to people stranded, but safe, in one tall building because so many other people were "calling to them and jumping from rooftops" into the water to be rescued first.

Things were so bad, Nagin said, that rescue boats are bypassing the dead.

"We're not even dealing with dead bodies," Nagin said. "They're just pushing them on the side."

Maj. Gen. Bennett C. Landreneau, adjutant general for the Louisiana National Guard, said search and rescue teams were still picking up people throughout the city, leaving them on highway overpasses-turned-islands and on the Mississippi River levee to wait until they could be moved again.

Jesus.

This is like a nuclear explosion without the radiation. This makes 9/11 look like an exercise. I mean, 20 blocks away, life went on. But this? They have to evacuate a major American city.

Update: WWL: Mayor reports massive communications failure will flood entire city
by Rob in Baltimore - 8/30/2005 09:48:00 PM


WWL has just reported that the Mayor of New Orleans reported that a massive miscommunication has occurred. The choppers that were rescuing people were supposed to attempt to sandbag one of the levy breaches. Somewhere along the way, it was never communicated, night has fallen, and within 12-14 hours the entire city will flood.


Mayor Nagin: Unhappy that the helicopters slated to drop 3,000-pound bags into the levee never showed up to stop the flow of water. Too many chiefs calling shots he says.

Mr. President, there aren't enough military choppers in this country to both SAVE LIVES and try and mitigate DISASTER?

Total failure of leadership, and an entire city is now going to flood.

UPDATE: From the WWL Web site:


****ALL RESIDENTS ON THE EAST BANK OF ORLEANS AND JEFFERSON REMAINING IN THE METRO AREA ARE BEING TOLD TO EVACUATE AS EFFORTS TO SANDBAG THE LEVEE BREAK HAVE ENDED. THE PUMPS IN THAT AREA ARE EXPECTED TO FAIL SOON AND 9 FEET OF WATER IS EXPECTED IN THE ENTIRE EAST BANK. WITHIN THE NEXT 12-15 HOURS****
posted by Steve @ 7:26:00 PM