Scum around the tub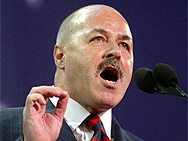 soon to be indicted


Bernie Kerik: From Hero to Tabloid Target
Former New York Police Commissioner Discusses His Fall From Grace


Apr. 14, 2005 - After President Bush nominated Bernard Kerik to the top job at the Department of Homeland Security, an avalanche of tabloid stories put the former New York City police commissioner's personal and professional life under the microscope and badly tarnished his reputation.

But to this day, the man who became a national hero for his leadership during the Sept. 11, 2001, attacks says there is only one reason why he withdrew his name from consideration: his family's nanny.

"It was absolutely the only reason," Kerik told ABC News "Primetime Live" co-anchor Chris Cuomo. "There was no other issue on the table. There was nothing else said, there was no other inferences, innuendo."

While he was completing documents required for his Senate confirmation, Kerik says he discovered he hadn't paid all the required taxes for his family's nanny. Kerik soon learned she was using a friend's Social Security number and turned out to be an illegal alien. He then notified the White House that he needed to withdraw.

The next day, another wave of allegations appeared in the media linking him to organized crime and accusing him of misusing an apartment at Ground Zero.

Out of Nowhere, Still in the Shadows

When President Bush tapped Kerik to run the Department of Homeland Security in December 2004, it appeared to be the culmination of the ultimate rags-to-riches story.

Born to an alcoholic prostitute, Kerik dropped out of high school, but had become a decorated cop and New York City's police commissioner.

He saw his star rise along with that of his friend and mentor, New York City Mayor Rudolph Giuliani. After guiding the city through one of the nation's most desperate times, he and Giuliani retired to form a prestigious consulting firm.

"To come from where I had, I often say I've lived the American dream," Kerik said.


Chris Cuomo needed a punch in the face for this blowjob of an interview. I'm sure Chris "radical right stooge" Vlasto had his hands on this as well.

Kerik is a scumbag. He took money from 9/11 families and banged his mistress in the ass over the graves of Ground Zero. Yet you can read the treacle he was allowed to answer. Nanny? What fucking nanny? Anyone see this nanny? No.

Why else was this mob-friendly ex-PC not allowed to run the nation's internal security?

* The mob-renovated apartment

* The wedding on the pad

* The unjust treatment of two senior Corrections Department staff, and the resulting lawsuits

* The use of NYPD personnel for his own errands

* Judith Regan's scary stories about Kerik's behavior, like stalking her son

* The two mistresses

* The mobbed up friends

* The use of a donated apartment in Battery Park City for his assignations

* Taking money from a book on 9/11 which was supposed to go to the families

Gee, that's just the shit off the top of my head.

Bernie Kerik is dirty. By this time next year, he should be under indictment, unless getting a Riverdale apartment for $150K and having it renovated on a cop's salary is well, possible. Especially when the people doing the work are associates of one of the five families. I never knew $135K went that far.

posted by Steve @ 1:22:00 AM